It is no secret that I don't like the winter months, so spring becomes my goal, my target, my sanity during the cooped-up months. The 2016 planting will be our first year of not expanding the vineyard; we are back-filling the spaces where vines have failed. It is still a fairly sizeable [to us, anyway] planting with about 400 vines. The trouble this year has been that we can't get two of the most-needed varieties – Petite Manseng and Montepulciano. We experienced a significant amount of loss in both varieties because of a really late cold snap in 2014, but we did not see the damage express until this past spring, so it wasn't part of our original 2016 plan. By the time we realized our need, it was too late to get anything from the nursery with whom we had been working. We expanded our search to no avail this year.
I have the Petite Manseng secured for spring 2017, but I am still searching for a nursery with Montepulciano. Our previous nursery advised us this summer that they were implementing a minimum order requirement that likely means we won't be working with them any longer. It is disappointing; we thought we had a great relationship there, but it seems that small orders [under 500 vines] create too many issues to make that a profitable business for them. We understand that, but it does not make doing what we need to do any easier.
In this season of giving thanks, let me tell you a little about that for which I am most thankful. Family and friends. If you will indulge me, let me tell you a little about them.
My wife? She is my rock, my confidant, confessor, travel companion, and my best friend. She listens to my craziest of ideas, and talks me down from the ledge when I get too far down the wrong path. She laughs at my worst jokes, and we share too many inside jokes to even remember them all. She supports me when I am weak, and she provides a swift kick in the tail when I need it, which is surprisingly more frequent than I like to admit! She loves me more than I deserve, and brings me more joy than I thought possible.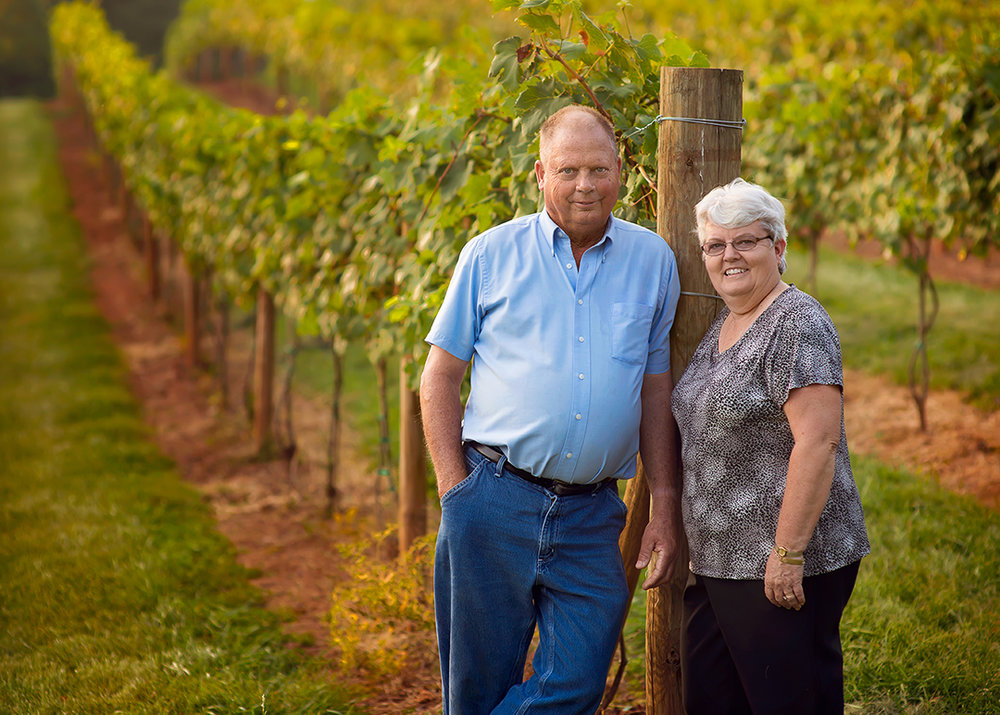 My mother? She is a saint for all that she deals with in her boys: my dad, my brother, and I. She makes the best red velvet cake. She works long and hard to make life a happy place for all of us. We are well-fed, well-loved, and well-prayed-for. She keeps us all grounded and focused. When it is time to work, she is the first one to the field. When it is time to eat, she is the one making sure everyone is fed. When something needs to be done, she just wants to know what she can do and where to start.

My dad? What can you say about Superman? He is a guy that can fix anything with a hammer, a screwdriver, duct tape, and WD-40. He has worked hard his whole life to provide for his family. If my brother or I ask for help, there he is, whether that is inspecting a property we are considering, doing home improvement projects, or building a vineyard. Need something delivered or picked up? Just tell him when and where. He shows us every day what it means to love one's family and do what it takes to provide. He shows us how to be compassionate. He leads by example, and he teaches us how to stand for what is important.
My brother? He is the voice of sanity in my world of crazy ideas. He is a guy that has mad analytical skills, a diplomat to my warrior… until the fight [literal or metaphorical] is inevitable and then he is leading the charge and has always had my back! He is a quiet voice of reason in my storm of sometime-brilliant-but-mostly-crazy notions. He is a man raising his boys with an eye on the example set by our own dad. I am proud of my maddening-but-brilliant brother.
My friends? They run the gamut, from the crazy one ready to chase a shot of tequila with a cliff-dive to the quiet one who offers sound counsel when I am at a loss for the next step. The diplomats, the warriors, the introverts, the life of the party, and everyone in between. The left-wing nut, the right-wing nut, and the moderates with their favorite liberal/conservative cause. I love them all.
Thank you for letting me share with you that for which I am thankful. And thank you for all of your support. We are grateful.
---